The Power Cell is a small device resembling a dynamo. It is a component of the "Metal Demon", and connects to the machine console at the very back of the vessel. Three are required to do anything beyond the most basic operations.
Locations
Edit
The three power cells can only be obtained one at a time, in this order: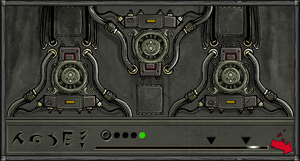 The first is obtained from the Spirit Imp, in exchange for some "candy" (teeth).
The second is in the water near Boyen's boat.
The third is in the possession of an Elder Shade, who appears after a circuit is closed. The enchanted hammer can be traded for it.